Nobody deserves to be beautified more than the lovely bride on her wedding day.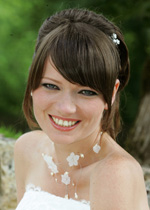 Every bride dreams of a flawless walk down the aisle, magnificent photos to bring back the memories of the day, fantastic food for the guests, and a makeup that lasts from dawn till dusk.
Before the big day, the bride-to-be usually has the hands on everything, from the color of the groom's tie to the number of layers of the cake. But one thing that is always on top of a bride's list is her dress and the entourage's hair and make-up. Every woman always wants to look picture-perfect on her wedding day.
Making decisions as to what your hair and makeup should be when bells come ringing is truly a tough one. Caprice beauty salon in Toronto can make planning for your big day easier. We can even provide tips on how to prepare even months before your wedding day.
We realize the importance and significance of your special day.
Drop in to meet and talk with us for tips and trends. 
Call us for a consultation and we will discover together on what will make splendid the day you say "I do."
| | |
| --- | --- |
| BRIDAL UPDO | from $200 |
| BRIDAL MAKEUP | from $100 |
| LASH ENHANCEMENT | from $25 |
| | |
| --- | --- |
| UPDO | from $100 |
| MINI MAKEUP | from $75 |