Bring Back that Crowning Glory with Rene Furterer Hair Loss Treatments
You know what they say about our hair: it is our crowning glory. But, what if there is nothing glorious anymore about your hair because you are beginning to lose them day-by-day? Well, with the help of Rene Furterer hair loss treatments, you can bring back that crowning glory you once had.
You are probably asking why do you have to experience hair loss problems and lose this crowning glory? Extreme hair loss can be experienced practically by anyone. Whether you are male or female, young or old, depending on your genetic make-up, diet, stress level, the environment, your medical conditions, or hair products you use, extreme hair loss can occur.
Losing hair is a naturally occurring bodily function. We shed about 50 to 100 hair follicles daily, which will be replaced by new hair growth. However, because of various natural, internal, and external causes, some of us experience an increase in hair loss rate that is higher than our hair regrowth rate. If no immediate solution is given, the extreme hair loss will eventually lead to thinning hair or baldness.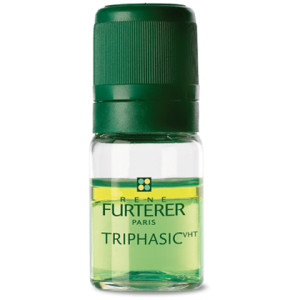 A number of solutions are available out there. If cosmetic operations are just too invasive or too expensive for you, Rene Furterer has come up with a more affordable and more readily available solution to your hair loss problem.
Rene Furterer has two available hair loss treatments available in the salon. If you are from Toronto, come by and ask our specialists what type of hair loss you are experiencing.
If your hair loss is the progressive type, Rene Furterer Triphasic is the right product for you. Triphasic VHT is perfect for people who are experiencing genetic hair loss, most of whom are men. This hair loss treatment targets the three major causes of genetic hair loss: vascular, hormonal, and tissular. The patented solution of Rene Furterer Triphasic VHT is composed of active ingredients, fruit extracts, and other essential oils that will prevent progressive hair loss and promote the growth of stronger and thicker hair follicles. Its orange and lavender scents will add to that much-needed pump of your thinning or balding hair.
Meanwhile, if your hair loss is reactive, then you have to use Rene Furterer RF 80. RF 80 is perfect for women who experience a sudden occurrence of hair loss due to pregnancy, stress, dietary problems, hormonal imbalance, or medication. This patented serum acts on the two main causes of occasional hair loss: vascular and nutritional.
The essential oils, vitamins, and other active ingredients present in RF 80 will solve your periodic hair loss problem while triggering the growth of thicker, stronger, and healthier hair follicles. Not only will your hair grow thicker and look healthier, the sage and lemon scents of RF 80 will also make your hair smell good.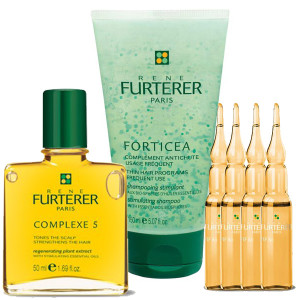 Extreme hair loss can really be dreadful, depressing, and disappointing. But, with the help of your Caprice Hair Salon specialists and the treatments of Rene Furterer for your progressive or reactive hair loss problem, we can bring back that crowning glory you once had.
So, Toronto, come by Caprice Hair Salon and ask for assistance from any of our hair specialists for your hair loss problem.