I am Marina Boukin – a master stylist and colorist, art director and the owner of the salon Caprice. I have dedicated more than 20 years of my life to hairdressing, hairstyling and image-making, so I am rightfully considered an expert in this area.
I admit that men have been unjustly overlooked by me with lack of attention and professional care. In fact, in the salon, I also love working with male clients. Sometimes magical things happen. A well-chosen and expertly executed fashionable hairstyle can transform a person and radically change his self-esteem and self-image. Many people mistakenly underestimate the tremendous influence of fashion trends on the perception of men's beauty and the image of modern men in general. Hairstyles can tell a lot about a person, about his character, outlook, flexibility of mind, aesthetic views, as well as the degree of self-respect and self-value. I really feel offended when a good looking and well-groomed man is considered a freak. It only speaks about the ignorance of some people. You don't have to be a freak to take a good care of yourself and look nice and stylish! I know a lot of men that are everything but freaks, who have a good taste, a sense of style and the need to look good. If not able to do it themselves, many of them leave that job of creating a good image and style to their significant others or qualified stylists. I hope that men will appreciate my efforts, and women will be able to apply this knowledge to improve the image of their loved ones.
This year, men's fashion is changing rapidly. You've probably already noticed a huge number of men with a cropped haircut and long bangs, or long beards on the streets of our city. Looking at them, I remember the notorious phrase, "Kitsch is tenacious!". Fortunately, this is not the only hairstyle this year! 30's fashion has had a significant impact on the modern man's image.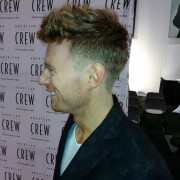 "Fritz style" holds the first place in popularity this year. This style boomed in the 1980's after the musical "Cabaret" with Liza Minnelli. Once again, this elegant and neat haircut produces a real sensation. Universal and suitable for any occasion, it is equally well-suited for some tattooed guys in torn jeans and a gentleman in a business suit. The main feature of the "Fritz style" haircut is thе truncated nape and temples and longer hair above the ear line. It is important that hair at the temples and nape is of the same length. This hairstyle is also characterized by moderately long bangs, which usually combed neatly to one side or smoothed towards the back. Hair gel is perfect for fixing such a hairstyle. This stylish men's haircut is very popular among celebrities, but it looks equally good, stylish, modern and pretty cool on any other individual!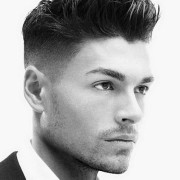 «Undercut» is a punk style haircut. It is characterized by short-shaved temples and rather long hair on the crown. Unlike the more aggressive mohawk style, this one has nice waves or smoothed crown, fixed with hair gel. It is a bit like the previous haircut, but is mostly distinguished by its rebellious look.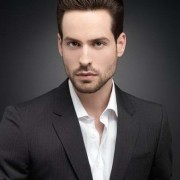 "Canadian" wins the third place in the race of relevance. It's classic and one of the most popular hairstyles that will probably never go out of fashion. It is characterized by smooth transition of length from the shorter temples and nape to the longer crown. Bangs are of medium length and the ears are open. The hair is smoothed to the back, allowing for a little mess, or can be neatly combed to one side. And if the previous two hairstyles are more suitable for obedient hair, the "Canadian" is ideal for curly or soft hair.
Besides, it is suitable for any face shape  and dress style. You will certainly be interested to know why it is called "Canadian". In fact, it comes from Canada. Back in the 1970's during the Soviet era, the Canadian hockey team came to Russia for a hockey game. Many Canadian hockey players had a similar haircut, and Russian athletes and other people of the Soviet Union took it over. Today, "Canadian" men's haircut  is one of the most popular and trendy hairstyles for men of all ages. It fits perfectly into the image of the modern dandy: simple but elegant and refined, with pretensions to aristocracy. It is worn by Hollywood stars, pop singers and famous athletes alike.
Short sporty haircuts are restrained and neat. The basis for it is the classic butch haircut. It can also be customized with various patterns. Using a variety of styling products, you can achieve different effects and combine this haircut with any dress style. It creates a strong brutal look. Masculinity is always in fashion.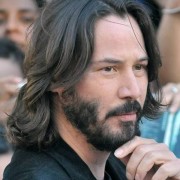 Of course, short haircuts are more practical, but long hair is also quite popular. This is the style of a romantic hero or a daring pirate – the choice is yours. The most current version is a long bob with internal grading to give volume. Thin sparse hair is not suitable for this hairstyle. Thick straight hair looks very stylish in a tight ponytail and goes well with a classic suit. A fashionable piece of modern long hairstyles is bangs. Heavy and straight  bangs nicely complement short hairstyles, giving a touch of personality to the image while asymmetrical fringes are good for hairstyles of any length.
Fashionable men's hairstyles are not only about the length and styling, but also the color. Dyeing is quite acceptable for men's hairstyles. However, the color should be as close to the natural one as possible, so pay closer attention to techniques such as toning. Thin and faint highlights, shading the main color of the hair should appear as a result of toning. The color range of toning has nothing to do with that of regular highlights or aggressive bleaching of hair. Natural shades of sun-bleached strands, as well as chocolate or dark honey colors form the basic color palette of the season.
The image of the modern man is inextricably linked to the concept of "neatness". After all, a well-groomed man is the dream of any woman. Dear men, love yourself. Allow yourself to be beautiful, stylish and masculine.
Live your life to the fullest and be healthy.
I am always happy to meet you!
Sincerely,
Marina Boukin.
https://capricesalon.com/wp-content/uploads/2013/11/muzhskie_modnye_strizhki_2014_6-940x400.jpg
400
940
Marina Boukin
https://capricesalon.com/wp-content/uploads/2019/12/caprice_logo_transparent-300x133.png
Marina Boukin
2020-01-31 18:14:10
2020-02-14 18:01:48
Men in the center of attention. Five trendy haircuts of the season.