Hi everyone! I am Marina Boukin, Master Stylist, Master Colorist, Art Director, and the owner of Salon Caprice.
For over 20 years now, I have been dedicating my life to the art of hairdressing, styling and image-making.  I am rightly considered an expert in this area for the constant learning of new hairdressing techniques introduced by the leading beauty schools worldwide; for exploring the chemistry of dyes, hair anatomy, and the history of arts; for gathering the world's most advanced hair treatment technologies, designing my own hairstyles and coloring methods; for participating in competitions, high-end fashion shows; for building my own hairdo collections, sharing experiences with leaders in the profession, teaching young and experienced hairdressers, publishing the results of my work in beauty periodicals and on the web, for attending the most popular professional exhibitions and events, and of course for working with clients in my salon Caprice and giving all my heart and soul to beloved work. I want to share with you my knowledge and my passion for the art of hairdressing.
I will be your guide in the fascinating world of fashion styles, modern cuts, colours, shiny shades, healthy radiant curls, glamour, charm, and chic.  Let me show you the world ruled by its majesty Beauty and help you to deal with a huge flow of information, which falls on us from various sources, and highlight the most important, useful and fun trends that will lead you to discovery of your personal perfect style.
Fashion is a mysterious and alluring phenomenon.
How to keep up with it and not to fall into slavery?
Let's try to find out. As usual, a fashion sentence is imposed twice a year when the world leaders of the beauty industry offer us their collections for Spring-Summer and Fall-Winter. According to this, we are now at the beginning of a Fall-Winter season of 2013. The new trends and ideas just flew off the world's catwalks. Each collection represents a complete stylish appearance, which includes such components as clothing, accessories, makeup and hair. Let's take a closer look at the hair part. Analyzing new collections, created by professional brands for hair stylists,and applying the new ideas within the real life settings, I would love to share some current trends for this season.
As we know, fashion develops in cycles. It demonstrates spiral movements throughout its entire history.  By reviving the styles of the past generations, we break them through the prism of the modern day concepts and, as a result, create something surprisingly new and blended with other styles.  Nowadays, eclecticism, a mixture of styles, runs the show. Sometimes I think that all these trends have been so many times stirred and mixed up,that it becomes impossible to get to the bottom of the original ideas. The styles of the previous century, 20–30s in particular, make a huge impact on today's world of fashion. This period could be featured as a breakthrough in daily life of women. Short haircuts became popular as a symbol of emancipation and independence. This style is a favorite choice of contemporary, successful, and self-confident women.It involves the convenience and ease of care. A well done basic haircut introduces several styling suggestions for our everyday life and festive occasions.  Choosing this hairstyle speaks for itself: a woman who wears it, has a sense of style.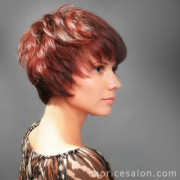 Indisputable standard of this style is a bob haircut (bob). Let's mention here that bob was a favorite hairstyle of Coco Chanel and Cleopatra. It is still a leading haircut in all its manifestations: bobwith gradient variation; layered-bob, performed with the help of cascading style, i.e.in layers starting from short strands to the long ones; and the straight bob with no layers, performed as a clean-cut line, in other words we call it classic bob. These haircuts symbolize fatal female sexuality. A discreet and laconic icon of a fiery and untamed inner strength. Popularity of bob haircuts is currently on the rise in Hollywood. We can see celebrities giving up their glamorous long curls for provocative boyish short haircuts: Charlize Theron, Anne Hathaway, Emma Watson, Keira Knightley, Natalie Portman, and so it goes on.
Also very popular are pixie haircuts, as they radiate enormous charm. This is a short hairstyle with smooth contours, short on the sides and full at the back of the head. Just a couple examples of gracious wearing pixie would be Audrey Tautou and Twiggy. Short hair in the style of tomboy describes rough character of its owner. In front of us either a boyish girl with tousled long jagged bangs, or a tough business woman with slicked hair, nothing inferior to men. Bangs are the basic part of each haircut. Asymmetry always adds an impression of mystical flair to the basic look.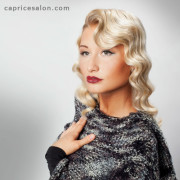 Chic of the 20s increasingly pervades our modern life. Having conquered Hollywood, it has became a part of our everyday life. Retro girls find themselves popular at any party, attracting admiring glances not only with their dresses and jewelry, but also with hairstyles, that are a major component of the image. Soft S-shaped curls are currently on the rise. Stylists are getting much more work, recalling long-forgotten art of hairstyling waves. Retro style hair accessories, such as bandages, ribbons, turbans, jewelry with stones, flowers and feathers, once again acquire popularity.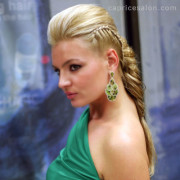 For those, who still do not dare to part with their long hair, there is also a suitable idea: as always, braids symbolize girlish beauty. Trend for the braids is returning into the light spot one more time, and we can see various types of braiding styles and techniques on the heads of fashionistas of all ages. Before, we had no idea about such a variety of options for this hairstyle: neat, messy, simple, delicate, multiple strands – imagination is boundless. Braiding became a separate branch in the art of hairdressing. The braid reigns in the full sense of this word in our everyday life as well as in elegant and festive cocktail and wedding hairstyles.
Well, those who are neither impressed by the small heads and the languor of the 20's, nor by braided romanticism, can rejoice voluminous pinup hairstyles from the '60s. They will add cheerfulness and frivolousness to your look.
The rebellious nature brought into fashion by punk hairstyles from the 90's, featuring shaggy heads, piles and Mohawks. Punk style also adopts pigtails and braids, thin tight braids close to the scalp, which create the illusion of shaved temples. Nearly all Hollywood celebrities once in a while get caught red handed wearing punk hairstyles. This style is very suitable for those of you, who are not afraid to show off your sparkling personality.
Clearly, the hair clips are also in fashion now. Therefore, if you have no time or imagination, the hair gathered in a bunch or tight ponytail will look very stylish as well. At worst, you can just create the effect of wet hair. Modern fashion is very diverse and gives us the opportunity to be different, unpredictable, and sometimes even unrecognizable.
I'm sure you are getting inspired to try some of the ideas for yourself.
Feel free to experiment!
Caprice salon stylists will be glad to help you find your unique style.
And the next time I will guide you through the world of color and dyes. Be healthy and live your life to the fullest. I look forward to meeting you soon.
Truly Yours,
Marina Boukin.
https://capricesalon.com/wp-content/uploads/2019/12/caprice_logo_transparent-300x133.png
0
0
Marina Boukin
https://capricesalon.com/wp-content/uploads/2019/12/caprice_logo_transparent-300x133.png
Marina Boukin
2020-01-05 18:51:15
2020-02-14 18:15:57
Fashion is a mysterious and alluring phenomenon